Black Cumin Oil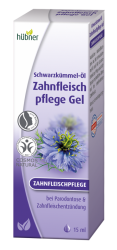 Gum Care Gel
with a natural active ingredient complex of organic black cumin oil and organic turmeric extract
for gum care in the case of periodontitis and gingivitis
certified natural cosmetic product
gluten-free
vegan
Naturally healthy teeth
Black cumin oil contains valuable active ingredients that help to treat periodontitis and gingivitis and keep the oral cavity healthy.Through its antibacterial effect, turmeric extract can inhibit the growth of bacteria that cause periodontal disease and gingivitis.
Clinical and dermatological tests confirm
65 % improvement in gingivitis (Gingival index improvement of 65.4 %)
The perfect complement: Toothpaste
Application
Use 1-2 times daily after oral hygiene routine. Apply a pea-sized portion to your gums with your finger or toothbrush after brushing your teeth (or as needed). Do not rinse the gel off – it can be swallowed.
Contains eucalyptol, menthol and camphor. Not suitable for use by children.
Storage
Store below 25 °C.
Package size
15 ml
Vegan