Hübner Iron VITAL®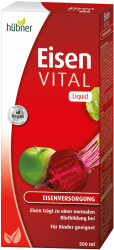 Liquid
essential for the formation of red blood cells
contains iron that is easily absorbed
fruity taste
suitable for children
food supplement containing iron and vitamin C
also available in convenient sachet
Iron for energy of life
Do you often feel tired or worn out? These could be signs of an iron deficiency. This trace element plays a key role in the production of red blood cells and thus in the vital transportation of oxygen around the body by the blood. Hübner Iron VITAL® Liquid provides a fruity tasting supply of iron to individuals at special times of life, for example for pregnant women and nursing mothers, for women with heavy menstruation, for vegetarians and vegans and for athletes and active people. Hübner Iron VITAL® Liquid contains the trace element iron in its bivalent form, which is extremely easy for the body to absorb.
Food supplement with iron and vitamin C
Hübner Iron VITAL® Liquid is an excellent source of iron for specific target groups. The essential trace element iron is needed to produce red blood cells, and to transport vital oxygen to all organs in the body and to the muscles. Iron is also a key component of a number of enzymes which control cell metabolism. The vitamin C in Hübner Iron VITAL® Liquid boosts iron absorption.
Iron contributes to normal formation of red blood cells and haemoglobin. Vitamin C increases iron absorption.
Recommended intake
To ensure optimal iron absorption, we recommend not to take Hübner Iron VITAL® Liquid at mealtimes.
Please observe the following recommended intakes:
Daily recommended intake according to D-A-C-H1)
1)German, Austrian and Swiss Nutrition Society
Hübner Iron VITAL® Liquid
% of intake*
Pregnant women
30 ml
100
Nursing mothers
20 ml
100
Girls over 10 years
15 ml
100
Women of child-bearing age
15 ml
100
Women over 51 years
10 ml
100
Children above 4-7 years
5 ml
63
Children above 7-10 years
10 ml
100
Boys and adolescent young males
10 ml
83
Men
10 ml
100
*If taken as recommended, Hübner Iron VITAL® Liquid covers up to 100% of the recommended intake of iron according to the D-A-CH recommendations per client group (see table).
Pack sizes
250 ml and 500 ml
Note
Shake well before use. Refrigerate after opening. Use within 8 weeks of opening. Do not exceed the stated recommended daily dose. Food supplements should not be used as a substitute for a varied and balanced diet and a healthy lifestyle. Keep out of the reach of young children.
Free from: gluten • lactose

Suitable for: vegetarian • vegan
Suitable for children