Lacto direct®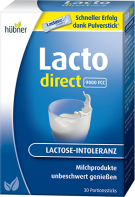 Lacto direct® 9000 FCC
lactase
in case of lactose intolerance
convenient portion sachets
food supplement
Lactose intolerance
Lactose is split by the lactase enzyme in the small intestine. Lactase production in the body is extremely high during the first two years of life, however, it can continuously drop as we get older. If the body does not produce the required level of lactase, then digestive problems will occur after consuming meals containing lactose.
Lacto direct conains lactase. Lactase improves the digestion of lactose.
high dose – 9,000 FCC*
can be taken directly – even without water
convenient sachet – when travelling and on the go

*units according to Food Chemical Codex
Recommended intake
Sprinkle LACTO DIRECT onto the tongue just before eating (with the first drink or bite). It is not necessary to drink water along with it. The powder can also be sprinkled straight onto meals containing lactose, however it must not be sprinkled onto hot food. A surplus of lactase is excreted by the body.
The amount of lactase required for digestion is dependent on the body's own lactase production and on the lactose content of the food. We recommend persons with lactose intolerance to seek advice about the role of lactase in their diet.
Pack size
30 sachets à 0.8 g
Please note
Do not exceed the stated recommended daily dose. Food supplements should not be used as a substitute for a varied and balanced diet and a healthy lifestyle. Keep out of the reach of young children.
Free from: gluten • lactose

Suitable for: vegetarian • vegan