Aloe Vera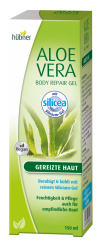 Body Repair Gel
care and regeneration for the skin
especially for irritated skin, e.g. after sun-bathing or shaving
contains 80 % of Aloe vera leaf gel concentrate*
contains 15 % silicon gel
dermatologically tested: improvement in skin hydration of 42% after 5 days
cosmetic
Hydration and care, even for sensitive skin
ALOE VERA BODY REPAIR GEL is a special cosmetic treatment which has been scientifically proven to assist in skin regeneration. It repairs, restores and soothes damaged and irritated skin, for example due to sunburn or after shaving, and leaves skin feeling comfortable.
The Aloe vera gel in the product regenerates skin cells, moisturises and gently soothes. The pure silica gel calms and cools irritated skin and reduces inflammation.
The gel has a pleasant, delicate fragrance as it is applied to the skin and is absorbed immediately.
Active ingredients
Pure silica gel calms and cools. Aloe vera gel provides intensive hydration and care.
Application
For face and body. Apply a thin, even layer to the affected skin areas after showering or bathing. Any reddening of the skin which may occur will not affect the action of the product and should disappear quickly. The gel is highly effective and can therefore be used sparingly.
Pack size
150ml
Free from: fat • emulsifiers

vegan
*corresponds to a ratio of 80 % pure Aloe vera