bite away®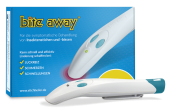 Healing of bites and stings
easy to use
patented medical product
dermatologically tested
up to 300 applications with one set of batteries
made in Germany
Quick and effective against insect bites
Insect bites and stings from mosquitoes, wasps, horseflies, and other pests are almost unavoidable in summer – but their effects are. bite away® can provide relief from all itchy or painful bites and stings. bite away® is easy and quick to use: Place the ceramic contact surface over the sting or bite and press one of the two buttons (three seconds for sensitive people / six seconds for regular use). The temperature of the ceramic plate quickly rises to about 51°C and maintained for the selected time.
Chemical-free treatment of insect bites
bite away® works solely with concentrated heat, without any chemical agents, making it suitable for use by pregnant women, allergy sufferers, and children*.
Insect bites? No problem!
Whether swimming, hiking or other outdoor activities: bite away® can be used anywhere, which makes the immediate treatment of insect bites possible, even when you are out and about. The handy pen-sized format makes it possible to carry the bite away® in your pocket.

Reduced intensity of the level of itching before treatment, at two, five, and ten minutes after treatment with bite away®. Measured according to a visual analogue scale**.
* Can be used independently from 12 years ** Study Müller et al. 2011