Evening Primrose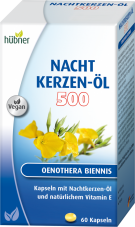 Oil capsules 500 mg
contain pure, cold-pressed evening primrose oil and natural vitamin E
high levels of essential polyunsaturated omega-6 fatty acids
vegan
OENOTHERA BIENNIS
EVENING PRIMROSE OIL CAPSULES contain 500 mg of pure, cold-pressed seed oil made from evening primrose (Oenothera biennis) and 12 mg of natural vitamin E. The capsules are made from starch and therefore suitable for vegetarians and vegans.
Evening primrose oil is high in essential, polyunsaturated omega-6 fatty acids, such as linoleic acid and gamma-linolenic acid. Gamma-linolenic acid, in particular, makes the capsules valuable.
Evening primrose is a wildflower originally indigenous to North America. Native Americans already knew about and made use of the plant for diverse applications in their traditional medicine.
Recommended intake
Take one capsule three times daily either during or after meals with plenty of fluid. The capsules can also be cut open and stirred into juice, mineral water or milk to make them easier to take.
Note
You should consult your doctor before use in the following cases: children under the age of 12, pregnancy, simultaneous intake of antipsychotics (phenothiazines) and seizures, e.g., epilepsy.
Pack size
60 capsules
Please note
Do not exceed the stated recommended daily dose. Food supplements should not be used as a substitute for a varied and balanced diet and a healthy lifestyle. Store in a cool and dry place. Keep out of the reach of young children.
Free from: gluten • lactose

Suitable for: vegan