Hübner ImmunPRO®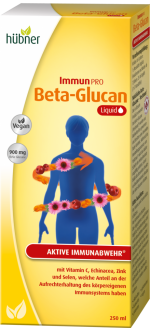 Beta-Glucan Liquid
pleasant taste

suitable for children aged 4 and up

food supplement with beta glucan, echinacea, vitamins and minerals
The immune system
The common cold is triggered by pathogens, especially viruses. Adults normally contract this viral infection 2-5 times per year, significantly affecting their well-being and performance at work.
Zinc and selenium – these trace elements strengthen defences and contribute to normal functioning of the immune system. Zinc is important for more than 200 of the body's metabolic processes.
Vitamin C – this major free radical scavenger supports the normal functioning of the immune system and helps protect cells from oxidative stress. Natural sea buckthorn and acerola extract ensure an extra boost of these vitamins.
Echinacea – this plant is also known as a medicinal herb. The indigenous peoples of North America have been using it for hundreds of years for its contribution to the normal, healthy functioning of the immune system.
Beta-glucans – complex carbohydrates This is a bioactive plant substance obtained from brewer's yeast. The 1,3-1,6-β-D-glucans (Yestimun®) possess remarkable purity and bioavailability.
Vitamin C, zinc and selenium contribute to the normal function of the immune system.
Recommended intake
Children from 4 years on: 15 ml daily.
Children from 12 years on and adults: 25 ml daily.
Pack size
250 ml
Please note
Protect from heat and sunlight. Shake before using. Do not exceed the stated recommended daily dose. Food supplements should not be used as a substitute for a varied and balanced diet and a healthy lifestyle. Keep out of reach of young children.
Free from: gluten • lactose
Suitable for: vegetarian • vegan