Hübner ImmunPRO®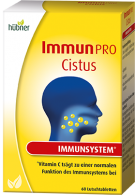 Cistus
with cistus extract

contains vitamin C

» for the immune system

tasty lozenge

food supplement
Natural immune defence
Although Vitamin C is one of the most important vitamins for supporting the immune system, the human body can't produce it by itself.
Tart flavour of cistus extract
The polyphenoles found in cistus extract coat the mucous membranes of the mouth and throat, resulting in a pleasant, soothing effect.
Recommended intake
3 to 6 lozenges daily. Allow one lozenge to slowly dissolve in the mouth. 1 lozenge contains 73.5 mg of cistus extract with 50 mg of polyphenoles.
Pack sizes
30 and 60 lozenges
Please note
Do not exceed the stated recommended daily dose.
Food supplements should not be used as a substitute for a varied and balanced diet and a healthy lifestyle. Keep out of the reach of young children.
Vitamin C contributes to the normal function of the immune system.
Free from: gluten • lactose

Suitable for: vegetarian • vegan