Hübner Iron VITAL®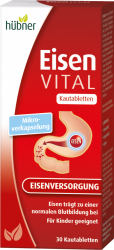 Chewable tablets
supports the formation of red blood cells
contains iron that is easily absorbed
food supplement containing iron and vitamin C
Contains microencapsulated iron
The microfine Iron microspheres are coated with a special layer made of lecithin. For the most part, Iron microspheres pass into the stomach, and the majority of iron is not released until the microspheres reach the upper intestine.
Also suitable for
mothers and young women
nursing and pregnant women
children and elderly people
Recommended intake
One chewable tablet contains 15 mg of iron. The break mark makes it easy to provide the right dose of iron to each client group*. Girls over 10 years and women of child-bearing age should take 1 chewable tablet a day. Recommended intakes for other groups are indicated on the pack insert. To ensure optimal iron absorption, we recommend that you do not take Hübner Iron VITAL® chewable tablets at mealtimes.
Pack size
30 chewable tablets
Please note
Do not exceed the stated recommended daily dose. Food supplements should not be used as a substitute for a varied and balanced diet and a healthy lifestyle. Keep out of the reach of young children.
*If taken as commended, Hübner Iron VITAL® chewable tablets cover up to 100% of the recommended intake of iron according to the D-A-CH (German, Austrian and Swiss Nutrition Society recommendations per client group (see table at Hübner Iron VITAL® F Liquid).
Free from: gluten • lactose

Suitable for: vegetarian • vegan