Special Combining for Men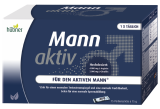 with high-dose L-Arginine and L-Citrulline*
for high-performing and active men**
for normal testosterone levels**
no artificial colours
well tolerated
*4,000 mg L-Arginine and 2,000 mg L-Citrulline (L-Arginine precursor)
** Zinc for normal testosterone levels, normal fertility and reproduction
** Selenium for normal sperm production ** Vitamin B12 and B6 for normal energy metabolism
** Vitamin C for normal functioning of the immune system
Mann aktiv is a hand-picked combination of high-quality nutrients with carefully selected vitamins and minerals especially formulated for men. All of these ingredients support important functions of the male body and complement one another exceptionally well. Among other ingredients, one daily dose contains 4,000 mg of the valuable amino acid L-Arginine and 2,000 mg of the precursor, L-Citrulline. In modern society, people are expected to perform at very high levels. Men, in particular, make exceptionally high demands on themselves, be it at work, in sports or in their family life. Mann aktiv, with vitamins, minerals and high-dose L-Arginine and L-Citrulline, can be used as a targeted nutritional supplement for men in a diverse range of stressful situations.
Zinc
contributes to normal fertility and reproduction
contributes to the maintenance of normal testosterone levels in the blood
-> significant factor for an active libido
Selenium
contributes to normal spermatogenesis
Folic acid
contributes to normal homocysteine metabolism
Vitamin B6
contributes to the regulation of hormonal activity
contributes to the reduction of tiredness and fatigue
Vitamin B12
contributes to normal energy-yielding metabolism
Vitamin C

contributes to the normal function of the immune system
L-Arginine
semi-essential to human life and endogenous amino acids
L-Citrulline
the L-Arginine precursor, L-Citrulline, is converted to the amino acid, L-Arginine, within the body
Tip: The product should be taken over a period of several weeks, because, functions like sperm production and maturity extend over several weeks.
Recommended dosage
Take one sachet a day (15 g) in 200 – 300 ml – stir into cold water or fruit juice and drink immediately.
Package size
15 sachets à 15 g each
Please note
The recommended daily dosage should not be exceeded. Food supplements are not a substitute for a varied, balanced diet and a healthy lifestyle. Keep out of the reach of young children. Do not store above 25° C. Protect from moisture.
Free from: gluten • lactose