Noni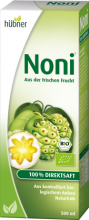 100% NFC juice
natural freshly unfiltered fruit juice
controlled organic cultivation
food
Noni – 100% NFC juice from the "magic fruit" from the Pacific
The history of the Noni fruit can be traced back over 2,000 years. This wild fruit is prized and revered in Polynesia for its extremely valuable properties. It is also known as the "Queen of the Plants" here and is an indispensable part of Polynesian culture.
The noni is a bushy type of plant which thrives especially well in the humid tropical climate of Malaysia, India, Indonesia and Hawaii. The plant has white blossoms and a green or white fruit. In order to extract the noni fruit's many active substances, the entire processing sequence must be undertaken with the utmost care.
100% noni fruit juice
no other fruit juice added
no preservatives or fruit flavourings
Only juice from the Morinda citrifolia L. plant is used to produce this high quality drink.
Due to its natural contents, slight variations in the flavour of NONI 100% ORGANIC PURE FRUIT JUICE may occur. This is due to differences in climate and harvests, however it does not affect the quality of the product. The wide spread of the noni fruit can be attributed to the fact that the plant was taken everywhere by the Polynesian people in their canoes whenever they travelled, due to its many varied special properties. The noni is one of the 24 so-called "canoe plants", which native people saw as highly essential to their culture.
Recommended intake
Take 30 ml, before meals wherever possible. NONI 100% PURE JUICE is also delicious when mixed with other fruit juices (e.g. apple juice). Shake well before use. After opening, store the product in the refrigerator. NONI 100% PURE JUICE must be consumed as soon as possible after opening.
Pack size
500 ml

DE-ÖKO-003 (German Organic Certification)
Non-EU Agriculture
Free from: gluten • lactose

Suitable for: vegetarian • vegan