Venenkraft®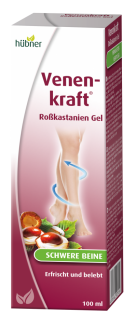 Horse Chestnut Gel
refreshing and invigorating
for tired, heavy legs
cooling leg gel
Venenkraft® Horse Chestnut Gel contains the active substances of horse chestnut seeds, witch hazel leaf, arnica flower, menthol, camphor as well as lemon and lavender oil.
The water-based skin care product with valuable plant extracts refreshes and invigorates heavy, tired legs quickly and sustainably. The gel is easily absorbed and has a pleasant, natural fragrance. Nourishing ingredients provide a smooth and soft skin.
Application
Several times a day, apply the gel to the legs and rub in gently; then prop up your legs where possible.
The colour and the scent of the gel may vary due to the natural ingredients.
Never apply to open wounds or damaged skin. Avoid contact with the eyes and mucous membranes. Contains camphor, menthol and eucalyptol and thus is not suitable for children under the age of 7 years.
Storage
Do not store above 25°C and keep away from humidity.
Pack size
100 ml